BELOW the masthead of the Washington Post is this phrase: Democracy Dies in Darkness. Journalist Bob Woodward, whose reporting deposed democratically-elected US president Richard Nixon in the 1970s, first used it in an article in 2007. It became the paper's slogan in 2017 after Donald Trump was sworn in.
Here in the UK, democracy died in early 2023 in broad daylight. Invitations were sent to thousands of random people across the country asking them to join in and adverts promoted it on Facebook. Its last gasps were enthusiastically covered by the media in copy/pasted press releases from wildlife charities.
The Facebook ads are what the Royal Society for the Protection of Birds, World Wide Fund for Nature and the National Trust call 'the national conversation'. This was the first phase in the creation of the People's Plan for Nature, a manifesto drawing on the opinions of ordinary people from all over the UK to save its plants and animals.
Months later when the plan was unveiled, chapter two contained this small print: 'Outreach for the National Conversation was conducted through the social media channels of the RSPB, WWF and National Trust, as well as paid ads and experiential events . . . It was not based on a balanced representative sample of the UK public.'
Many people who read that line might appreciate the apparent honesty and take the rest of the manifesto more seriously. But it's propaganda designed to make the organisations appear sincere: textbook totalitarianism.
The charities and their supporters will disagree and tell you the People's Plan for Nature contains the opinions of a 'People's Assembly' made up of 103 citizens just like you or me (minus everyone else of voting age). They spent a few weekends listening to presentations by the charities, businesses, wildlife, nature and lobby groups. Their opinions were distilled, filtered, consolidated and spun into a frequently repetitive 99-page document.
What the charities don't stress is that 'assembly members' were subject to something close to autosuggestion and indoctrination before reaching their consensus about the countryside, which happens to be the same vision promoted by the host charities.
They tried to pick the 'right' members for their assembly, using a system called 'RAPID democracy' created by New Citizenship Project (NCP) and influenced by an advisory group that included wildlife activists.
NCP works with local governments and big companies to 'design creative interventions that shift culture and practice', euphemisms for conditioning and mind control. RAPID is an anagrammed acronym of Input, Recommend, Decide, Agree and Perform, the steps the creators insist people go through when making important decisions. NCP co-founder Jon Alexander says it is a response to two problems with actual democracy, where 'the numbers of people directly involved in any one process are pretty small' and the system is old-fashioned.
'It's the classic sort of anti-democratic idea,' says edtech investor Richard Taylor. 'We'll mail 30,000 random people using the postcode address list then manipulate that a bit . . . but you can't have anyone involved in politics in it yet one of the people just happens to be the Guardian's environment correspondent. So the way that they chose people is completely disingenuous.'
In the Guardian article in which she outs herself as one of the assembly members, Sara Hudston comments on the incredible odds that put her there: 'As a longstanding Guardian country diarist and eco-writer, I assumed I would be weeded out . . . I was actually the only person with that kind of green activist background.'
The others included a plant scientist from Norwich, a writer of psychological thriller novels, a board member of the Southern African Venture Capital and Private Equity Association, an honorary secretary of the Wimbledon Club and a Wallsend online gambler with a passion for horse racing.
'Everyone was different,' chirps Hudston in her article, 'we certainly weren't a collection of lefty Guardian readers.'
They didn't have to be as they were subject to a 36-hour rapid indoctrination. Before they sat through the many lectures, they had to undergo 'mindfulness practices', a form of meditation closely linked to hypnosis. There is some overlap in the techniques, according to Mindfulness Supervision website.
One of the first speakers was Ella Saltmarshe of the Longtime Project, a company that specialises in conditioning corporate employees. Her session began with five minutes of meditation.
'We're going to do a practice that might feel a bit like the mindfulness practices you did yesterday and for this section I invite you all to close your eyes and to get comfortable and to relax your shoulders and to feel the breath moving in and out of you.
The participants are then taken on a journey into the future where nature is flourishing and members are asked by their family and friends what they did at the assembly to help. Once Saltmarshe brings the assembly back to the present, she explains nature's problems. Don't worry, she insists, humans are 'not inherently destructive of nature' as the destruction comes from 'a particular economic system'. That would be capitalism.
Another speaker, Ruchir Shah of the Scottish Wildlife Trusts, agrees, insisting the cause of nature's decay is the economy.
His presentation is largely based on an internet meme of waves increasing in size, which he says shows the 'scale' of the problems humanity faces, even though it's entirely unscientific. It's 'not enough' to just tell people the facts, he insists, suggesting the image might strike enough fear in people for them to 'take action'. 'What you're doing today is absolutely critical and crucial,' he says, referring to their task of putting together a plan he thinks will become law.
'They get these 103 people and put them through these four weekends of things where there's effectively one speaker for every three participants,' says Taylor. 'That's a bit like saying let's have a university lecture and have 120 lecturers for the 400 students . . . and yet there's nobody from anything to do with field sports whatsoever. No. You've got Natural England, the RSPB, Scottish Wildlife Trust, various wildlife trusts, the Northern Island Environment Agency, Sheffield Council, Glasgow Council, Plymouth Council, the National Trust, the Crofting Association, Tesco, Thames Water. But it's such a sort of stitched up little group, and yet they put out this plan as though it's got some form of democratic legitimacy and policy makers who should be ignoring it, actually are listening to it.'
The Wallsend gambler appeared in an article on a climate change website. The writer admitted he was not allowed to interview the man, only pass him questions via a PR company. He complained how it took weeks to get back answers to simple questions but put it down to shoddy PR firms (the first was fired and another hired during this time). I told him the lack of transparency is deliberate.
'Of course, they won't say who participated,' says Taylor. 'The people who did the selection, the Sortition Foundation, I spoke to them and they said, you can send us an email or letter, but we'll never tell you because of data privacy and similar issues. So in theory we've got 103 people who want to influence public policy, but who don't want to have their names in the public realm, except for the Guardian reporter.'
Writing in the Daily Telegraph, Charles Moore says: 'Have you heard of the Sortition Foundation, Involve, 89Up and the New Citizenship Project? Nor had I, but they are the ones whose conceptual and/or presentational brilliance have brought us this new definition of the People . . . The Sortition Foundation is an international movement [that] believes that "stratified random selection", not the dreary old ballot box, is the way to empower people . . . Involve ran the Assembly's processes. As for 89Up, it is a media agency – "Europe's first impact Agency: We help the good guys achieve great things".'
Moore points out NCP's Jon Alexander used to work for the National Trust: 'Why,' asks Moore, 'is a group of 103 people so carefully selected, paid for and groomed by numerous organisations who all think the same thing, better than what happens when, in their millions, the people (with a small p) vote in local and general elections?'
So, after their paid weekends away in hotels plus a cheque for £800, what did the People's Assembly members learn? Their podcasts offer a hint:
Daniel: Were you engaged with nature before you signed up to the People's Plan for Nature Assembly?
Rebecca: Yeah, I frikkin' love nature, mate.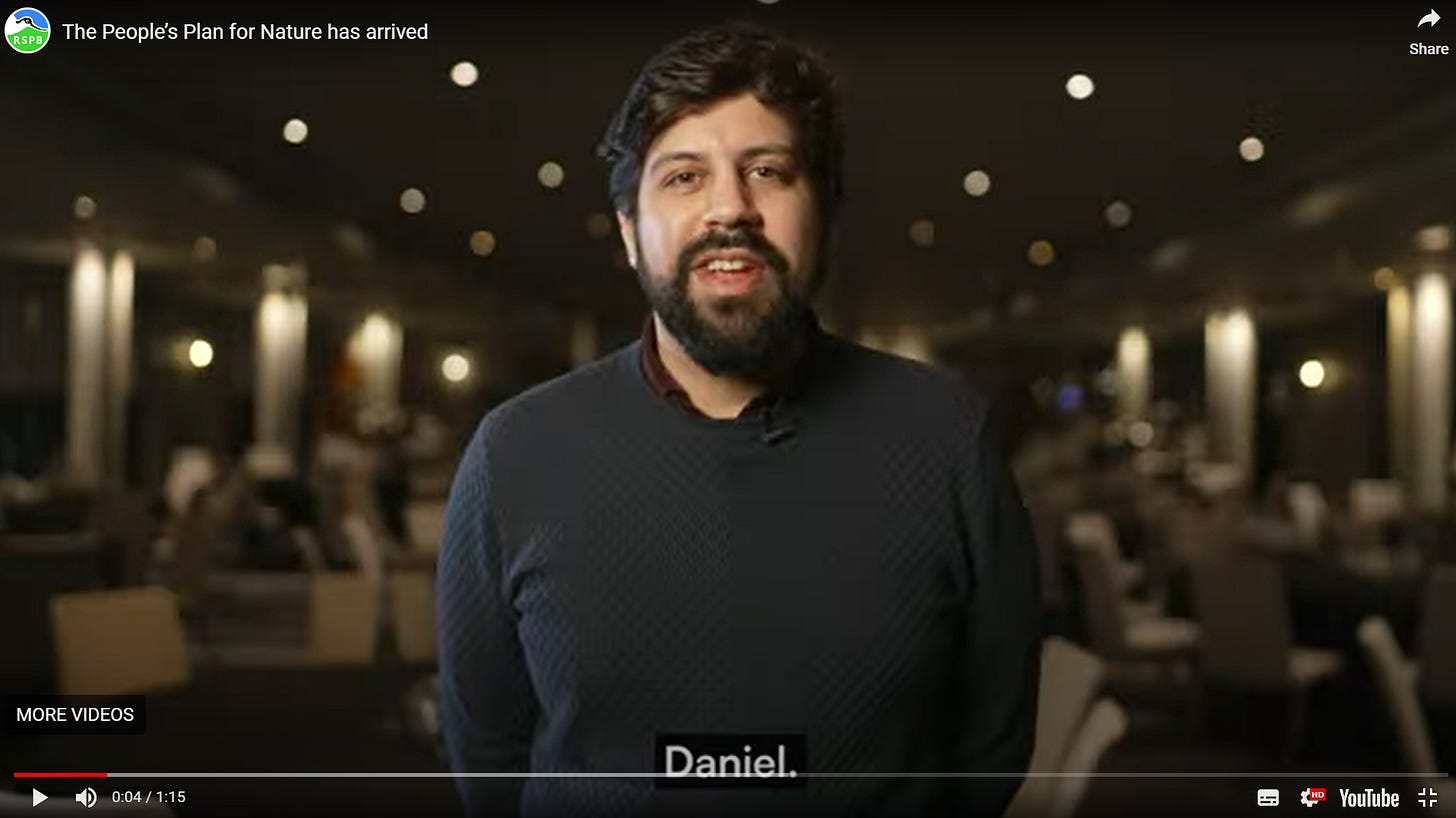 Daniel: Were you engaged with the NGOs that are funding it?
Rebecca: I go to National Trust, I'm aware of them. I follow them on social media. Same with the WWF, not so much the RSB . . . God, I can't remember the letters.
Daniel: Are there other reasons why you went along?
Rebecca: I've always liked nature, always enjoyed a good walk . . . The £800 100 per cent helped.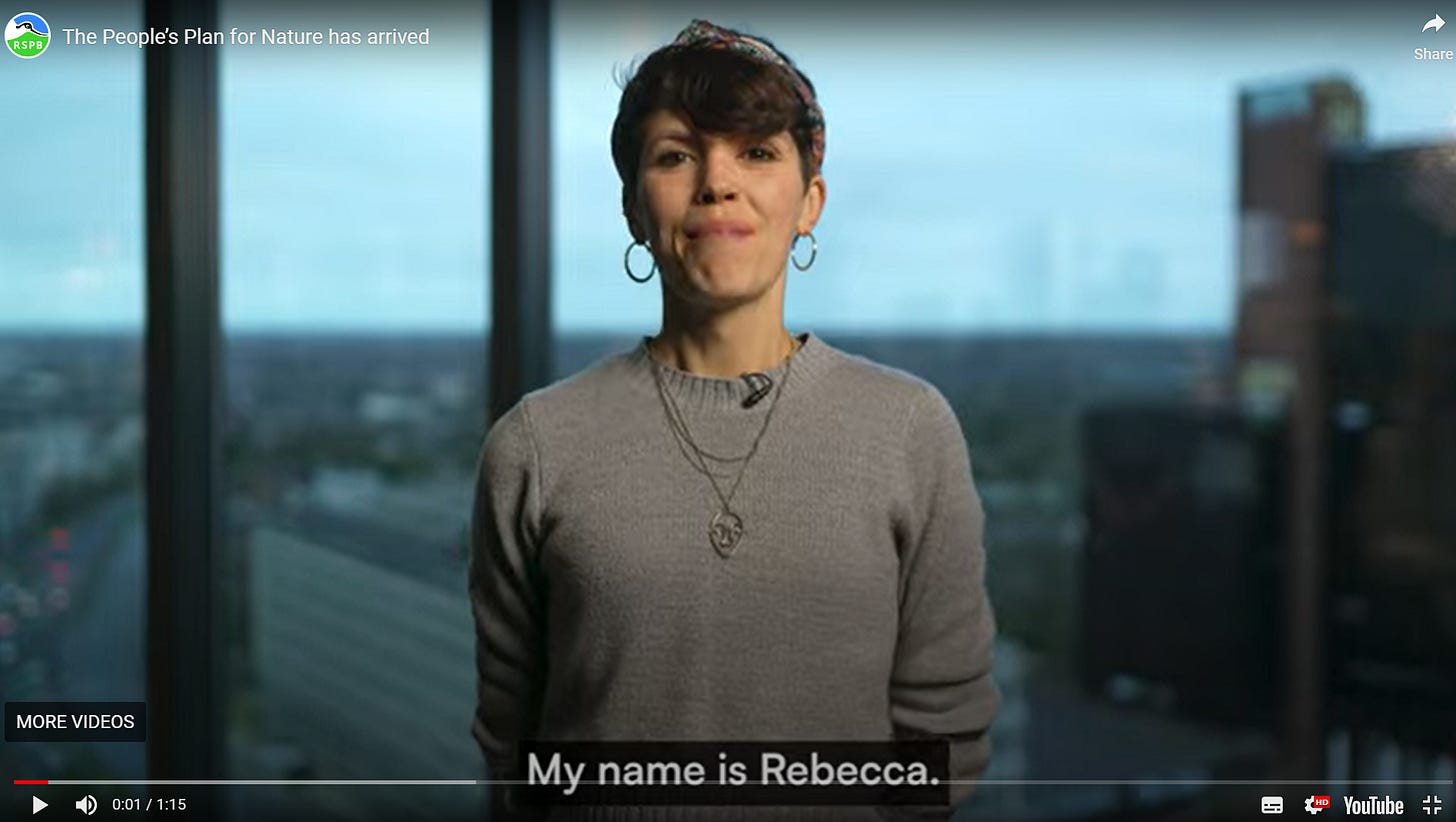 Tim: I was a bit disappointed on the first night there wasn't a free bar.
Susie: What? I had two Proseccos, so . . .
Tim: Yeah, but that's not a free bar, is it? A free bar, you rinse it.
Other than they were there, they reveal nothing about what happened or how they think nature should be protected. The conversations rarely rise above sub-par pub chat and that's probably why the podcasts were quickly stopped.
Now the RSPB, NT and WWF have what they want, they don't need the people.
This article appeared on ABO Substack on August 18, 2023, and is republished by kind permission.